Ben
Talk

0
838pages on
this wiki
Ben (ベン)

Breed

Great Dane

Affiliation

First appearance

GNG vol 3, chpt 2. GNG ep 7; GDW ep 10

Last appearance

GDW vol 56 ch 3, GDW ep 26

Status

Alive (Anime) ; Deceased (Manga, died from old age)

Family or owners

Mate

Birthplace

Kofu, Yamanashi

Voiced by

Hideyuki Tanaka (GNG), Katsuhisa Houki (GDW)
Ben is a very strong dog, he is brave and good-hearted, Ben is usually serious and wants the best for his comrades. Ben does like Gin, and wants him to be just as strong as he is, he is happy to give Gin the Leader role after he is blinded, Ben gets along with everyone well, he and Cross are lovers which eventually leads to Cross having puppies.
Ben is a Great Dane, he is mainly a light brown with with black around his eyes and a dark brown snout, he wears a red collar and has short ears.
Ginga Nagareboshi Gin
Edit
Meeting GinEdit
He was the leader of the first platoon. He possesses unusual strength and the ability to recuperate incredibly quickly. He is also the role model to
Gin
as it is shown through out the manga and the anime. Gin discovers the wild dogs one night and after being tested by them, Ben allows Gin to come with them, they go back to
Riki
who tells them about the battle with
Akakabuto
and tells the pack to find more dogs.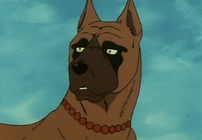 Finding fighter dogsEdit
They first met the Kai Brothers: Akatora, Chutora and Kurotora. Then they met Moss, In the battle against him, Ben was crushed and almost killed by a big boulder that was pushed at them. But luckily, Ben survived. He was blinded by poison in a trap set by Akame who was led to believe that Ben's group were outsiders helping Kurojaki. However, before he lost his sight, Ben turned his platoon over to Gin, believing he would be the best suited as the leader.
After returning to his old owner and getting medical treatment, Ben recovered some of his sight so he could participate in the final battle.
The final battleEdit
Only short time before the battle, Cross gives birth to his puppies. He had two sons, George and Ken and one daughter, Minnie.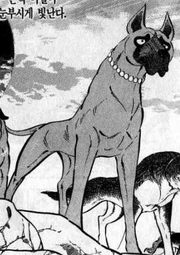 On his way to help Riki find Akakabuto, Ben lost his sight again and was approached by Sniper. The only way to defeat him, Ben realized, was to sacrifice himself. 
He threw himself into a river, taking Sniper with him, Hyena fought Sniper so Ben could get away and he managed to survive and was later found by Gin inside an old house. From there, Ben went to fight the bears to help Gin. 
In the final battle, Ben was the first dog to attack Akakabuto, disobeying Riki's orders to do so. He was then saved by Gin from being killed by the bear.
The wolf conflictEdit
After the final battle, Cross and the puppies are kidnapped by the wolves, a new battle begins, Ben and the other dogs defeat the wolves and live in peace again.
Ginga Densetsu Weed
Edit
Hougen conflictEdit
Ben is the oldest of the surviving Ohu soldiers from the battle with Akakabuto. Upon his old age, he has returned to Kofu with Cross to live with his owner.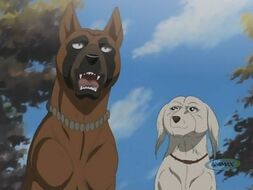 After a series of gruesome nightmares, he returns to Ohu only to find his old friend,
John
, dead. He brings him back to Kofu and his owner gives John a proper burial.
Despite his age and his blindness, he and Cross decide to return to Ou to help out the younger generation in their battle against Hougen.
In the anime, his nightmares and the burial of John were absent. Ben is portrayed as a comic relief for his senile nature and he was the one who also motivated Ken and Kagetora to fight Bat.
Hybrid bear arcEdit
Ben dies of old age and later on, his spirit is seen guiding Ken when George was in trouble battling Hybrid Bear.
See more pictures in Ben (Photo Gallery).
Cross's sons ( Half-sons)