Benizakura
Talk

0
838pages on
this wiki
Benizakura (紅桜)

Breed

Tosa

Affliation

Age

10 years old

First appearance

GNG vol 8, GNG ep 15

Last appearance

GNG vol 12, GNG ep 19

Status

Deceased (Drowned)

Family or owners

Voiced by

Takeshi Aoki

Meaning of Name

Crimson Cherry Blossom

Birthplace

Sannohe Prefecture (

Mutsu

)
Benizakura in Ginga Nagereboshi Gin
Edit
Benizakura was once used as a fighting dog and was undefeated until he met Tsuna Arashi. However hard either dog fought, their battle ended in a draw. Benizakura trained for years, preparing for his next fight with Tsuna Arashi. Going out one day to find his old rival, he was shocked to find that the former champion had retired and was used as a punching bag for other fighting dogs in training. In his anger, Benizakura killed the dogs that were attacking Tsuna and fled back into the woods.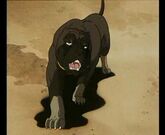 Benizakura was first seen bull fighting by Gin, who challenged him as an excuse to meet him. Although Benizakura pinned Gin at the end of their fight, he was impressed by the bearhound's courage and decided to join Gin's pack.
During the bear battles, he dragged Mosa down to the bottom of a lake and tied him to a log, but his leg was caught in the rope he had used. Gin came down to save Benizakura, but Benizakura hit him with his front paw and sent him back to the top of the lake, thereby sacrificing himself to ensure that Mosa drowns. Upon his death, a cherry flower formed in blood shows up on the lake shore.
Benizakura in Ginga Densetsu Weed
Edit
In the anime, Benizakura appears as a spirit in the final battle and as one characters in the sky in the ending. In the manga and anime, he appears among the Ohu spirits in the last fight against Hougen. In the manga he talks while in the anime he does not speak.
See more pictures in Benizakura (Photo Gallery).