Blue
Talk

0
839pages on
this wiki
Blue

Breed

Beauceron Mix

Affliation

Blue's pack (Leader)

First appearence

GDW volume 1 - Ch. 6, GDW ep 2

Last appearence

GDW volume 2 - Ch. 2 , GDW ep 2

Status

Deceased (Hit by two trucks)

Family or owners

Unknown

Voiced by

Kan Tanaka
Blue in Ginga Densetsu Weed
Edit
Blue lives with his friends, Ned and Bell in some mountains. It is told by Hook to Weed and Lenny that he takes in stray puppies, acting kind to them, and uses them as his runners when they get bigger. When a pup has outlived his usefulness, Hook reported that the puppy would be killed by Blue.
Blue later ambushes GB when he runs to assist Lenny and Weed in Mel's rescue. Weed later tries to save him, and Blue says that the duty of killing Lenny belongs to Mel alone. Mel chooses his mother over Blue and his friends, attacking Blue instead. GB then proclaims that if the dogs decide to mess with him, they are messing with an Ohu commander. Blue says that it isn't so, because he was a former Ohu soldier and the paradise was destroyed long ago.
He is later chased, after abandoning Ned and Bell, by Hook, Weed, and a multitude of other dogs. Blue easily jumps the fence and starts crossing the road, but he is hit by a truck. Weed then climbs after him in an attempt to help him, and GB then yells that Blue is using Weed as a shield, when Blue, in reality, had saved Weed from getting hit by the second truck.
It is said that Blue was never loved by anyone. He went to Ohu five years before, when the paradise was already in turmoil, and was almost shot. He went away, then started to proclaim himself as a soldier of Ohu.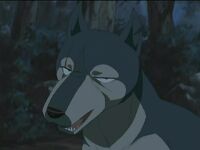 Blue is a dog who lives in some mountains near a city with his two minors, Ned and Bell. Here, he takes stray pups in, acting nice and caring to them. But later, he forces them to steal food for him, and if they refuse, he kills them.
When Weed met the puppy Mel, he soon figured out that Blue had Mel under his command. Weed follows Mel to Blue, and Weed tells him what he is doing is wrong. Blue starts to fight, but Hook, GB, and Smith soon turn up. Hook fights Blue to avenge his brother, Kuro, that Blue killed. Blue takes his escape over a fence out on a highway ,and tells Weed he is going to meet Nero, but as he is laughing, he turns around, and is hit by a truck.
Weed jumps over the fence to help Blue as another truck shows up. Blue grabs Weed by the neck and throws him away to keep him from being hit by another truck. Blue dies from his injuries. Before his death, he states that he wished he could of met someone like Weed earlier in his life.
See more pictures in Blue (Photo Gallery)