Buruge
Talk

2
839pages on
this wiki
Buruge

Breed

Blackmouth Cur

Affliation

First appearance

GDW vol 19 chp 6, GDW episode 17

Last appearance

GDW vol 46 chp 5, GDW episode 25

Status

Alive (Anime); Deceased (Manga, died from injuries)

Voiced by

Koji Yusa

Birthplace

Yashamori
Ginga Densetsu Weed
Edit
Buruge of Yashamori joined Hougen together with Bat, Kite, Kintaro, Jaw, Miruko, and Toube. He becomes one of Hougen's platoon leaders after proving himself worthy in a fight together with Kite, Bat and Toube. Buruge is the one who brought back Kyoushiro to Gajou, the fortress of Hougen. However, he did not get credit for it because Bat discovered that Kyoushiro is a traitor.
Buruge is sent out by Hougen to find Weed, but his platoon gets surrounded by Weed's pack and Weed talks to Buruge. The puppy lets him go and tells him that the humans will blow up Gajou. Buruge then sends two of his minions to Hougen to tell what Weed said. He has a jaded view of fighting and decides to leave the place for good. On his way, Buruge also meets Gin and the reinforcement pack and he decides to fight for him and defeat Hougen.
Before the final battle, Buruge tricks Hougen that he might send out more soldiers but Hougen discovered this when he heard Buruge howling for the Ohu Soldiers in which one of the Koga dogs, Toshimitsu, only came to assist him. When Hougen got angry with him for making him a fool, Buruge gathered his courage to stand up for himself and tried to attack him but he fails to as he was flung off the cliff. Fortunately, he survived this and he was seen in the pack watching Weed battle Hougen.
In the Monkey arc, he was recruited by GB to help Weed battle the baboon Shougun. After the battle, he settles down with the Ohu pack until at that time, Hokkaido was in trouble with the invasion of Victor's army.
Later, Buruge was taken captive along with Gin and his army at the gorge by Victor's soldiers. Sadly, with many days of starvation, thirst and injuries, Buruge had suffered heavy mortal wounds from fighting Bozlef's soldiers. Before he died, he asked Kyoushiro as a last request to eat his flesh to help him stay alive but Kyoushiro refused this and ate his fur instead.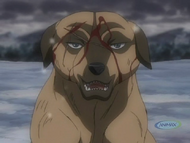 Buruge is one of Hougen's 4 generals. He was once a fighting dog and because of his unyielding determination, he earned such nicknames as "The Death God" and "The Demonic Warrior".
Unlike in the manga, he, Kite, and Bat were shown in the anime fighting the Ohu soldiers.
During the Battle of Gajou, he fights and is defeated by Kyoushiro. Then, GB takes the three defeated generals, Bat, Kite and Buruge to a hot spring to heal. Gin lets them join him. The three cry tears of regret and decides to leave Hougen's forces. After this, Buruge wasn't seen in the pack during the final battle of Weed and Hougen.
See more pictures in Buruge (Photo Gallery).