Hakuro
Talk

0
838pages on
this wiki
Hakuro

Breed

Siberian Husky

Affiliation

Hokkaido

First appearance

Ginga Nagereboshi Gin Vol 11, page 26

Last appearance

Ginga Densetsu Weed Vol 39, page 147

Status

Deceased (Manga:Killed by

Victor

) Unknown (Anime)

Family or owners

Mate

Unknown female (was never mentioned)

Meaning of Name

White Wolf
Hakuro in Ginga Nagareboshi Gin
Edit
When Gin and Ben traveled around to gather dogs, they didn't have time to get to Hakuro of Kitami (Hokkaido), so Hakuro came by himself.
When he meets Gin and Ben, he at first mistakes them for not being members of Riki's pack, but Ben soon makes it clear they are the good guys. Hakuro tells Ben that since they never came to Hokkaido, Hakuro and his pack decided to come by themselves. Ben pays Hakuro his respect by lowering his head in front of his pack. Hakuro joins the pack and they set off for the final battle against Akakabuto.
Hakurō also goes under the name "brown bear slayer" which he indeed proves to be against Akakabuto's soldiers. In the manga during Wolf Arc, Hakuro gets his leg cut off by Gaia's soldiers.
Hakuro in Ginga Densetsu Weed
Edit
Hakuro is not mentioned through the Hougen plot, nor the Shogun plot.
As Victor and his pack of Russian dogs invade Hokkaido, Hakuro does his best to fight Victor off. It ends in a duel between Victor and Hakuro. Hakuro sees all of his pack being slaughtered by the Russian army and takes measures into his own hands. As Victor lunges for Jerome, Hakuro gets in the way and Victor grabs his throat instead. Hakuro jumps into the air and spins around to release himself from the leaders grip. however in the process Victor takes a chunk from his throat. Hakuro speaks his final words to Jerome and collapses. As he stares into the sky and sees a vision of Gin and the other soldiers of Ohu, he then passes away.
Hakuro is not seen, nor mentioned, in the anime.
Fur Issue
Edit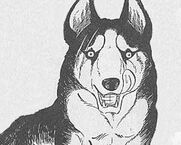 If you look in the manga's pictures of Hakuro, his fur is clearly black.
However, if you look at the Ginga Nagareboshi Gin anime pictures his fur has changed into a light brown colour.
It's unknown why the animators decided to change his fur colour. He also has black scar-like markings around his eyes, which differentiate from the manga quite a bit.
See more pictures in Hakuro (Photo Gallery)