Kamakiri
Talk

0
839pages on
this wiki
Kamakiri

Breed

Irish Wolfhound

Affiliation

Formerly Kamakiri's pack (leader),

Hougen

's Pack

First appearance

GDW vol 14 Chpt 2, GDW ep. 14

Last appearance

GDW vol 26 Chpt 4, GDW ep. 22

Status

Deceased (Left to die by

Hiro

)

Mate

Family or owners

Meaning of Name

Praying mantis

Voiced by

Yoshitaka Kaidu
Ginga Densetsu Weed Anime
Edit
Kamakiri is an Irish wolfhound that has been terrorizing most of Japan to make his own pack bigger. Kamakiri is also the murderer of Hiro's father, Yukimasa. After an encounter with Weed's pack, he decides to join Hougen and become his platoon leader.
He is assigned the task of protecting Genba, but the platoon gets ambushed and Genba badly wounded. Kamakiri then loses some of his credibility with Hougen and goes out to find and bring Weed to him as a gift to fulfill his ambition of taking Genba's place. Weed fools him and Kamakiri was forced to return in shame.
Later, Kamakiri meets Toube, a platoon leader who Hougen had banished, and he takes him back to Hougen. Kamakiri soon finds out that Toube is a traitor and he wounds him to the point of death.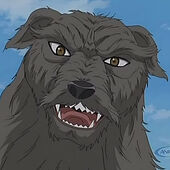 Kamakiri fights Hiro during a random search for the Ohu fighters. They fight long, but Hiro rips off Kamakiri's testicles and leave him alone helpless (with his fangs ripped off), bleeding, castrated and dying in the cold mountains. As
Weed
's group gets away, Kamakiri tries to grasp
Hiro
but fails because he didn't have fangs. It is said that Kamakiri died because of sudden crow gathering at the spot he was left.
Ginga Densetsu Weed Orion
Edit
Although Kamakiri himself was not shown in the new story as he died in Ginga Densetsu Weed, he had three unnamed sons who had turned up in the story. Kamakiri's death was mentioned by one of his sons when they were crossing at the path to the ruined Ohu paradise.
See more pictures in Kamakiri (Photo Gallery).