Maxime
Talk

0
837pages on
this wiki
Maxime

Breed

German Shepherd

Affiliation

First appearance

GDW manga Vol 38 Chpt 2

Last appearance

GDW manga Vol 51 Chpt 4

Status

Alive

Family or owners

Name Meaning

Russian name for Maximilian

Birthplace

Sakhalin Islands

Maxime is a German shepherd who came from Sakhalin Islands (Russia) where he was trained as a dog in war. He swam to Hokkaido together with Victor, Alam, Lydia, Bozlef and his pack in the hope of conquering the island as his own. He's the older brother of Lydia and son of the Old Leader (which is was taken over by the scheming German shepherd Victor). Maxime is missing his left eye and has a gunshot wound above it thanks to the human soldier who shot him in the past.
During a fight with the island's current leader
Hakuro
, Maxime kills off two of Hakuro's sons
Genbu
and
Byakko
in an ambush. After Victor has taken over the island by killing Hakuro and all in his pack including the females and puppies, Maxime seems to change sides and aids the hostage
Jerome
instead of killing him. He helps his sister Lydia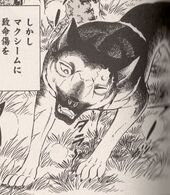 with healing Jerome and keep Victor from killing him. While attending to the prisoner-of-war, Maxime meets
Akame,
whom he fights very shortly. Afterwards, when heading back to Victor, he gets surrounded by Victor's brother Bozlef's pack. After finding out who Bozlef is, he decides to take him to Victor. He is ordered by Victor to go with Alam to find the Ohu army's base, but gets ambushed by Akame.
Here, Maxime pretends to be wounded and runs back to Lydia to tell her of the Ohu army. However, he is betrayed when Victor and his pack surrounds and attacks him. He gets saved by Akame and taken to the Ohu army's base. Afterwards, Maxime decided to go back and try to convince Alam to join the Ohu army as well. Lydia tries to stop him, but Maxime knows that Alam would be a good support as the battle against Victor would soon arrive. Unfortunately, before they could fight Victor, Alam (who pretended to be willing to join Maxime) shows his true colours when he stood by to watch as Victor's minions tear Maxime to pieces. When he's down on the ground injured and unable to fight, Alam then jumps in and and rips his throat. He is then carried to the top of a cliff and thrown down to Gin's platoon, who have been captured by Victor. Maxime then passes out and was carried to the cave.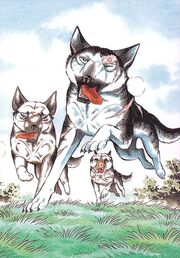 Later on, while the Ohu dogs and the Russian Army Dogs were fighting hard in the gorge, Maxime had miraculously appeared out of the cave bloody yet determined to stop Victor from killing
Gin
but he was still unable to fight him. Fortunately, after the arrival of
Weed
and his reinforcements, he was also nursed back to health by the humans
Daisuke
and
Hidetoshi
(who came to investigate the happenings at Hokkaido).
In the end, he swam back to his homeland to report to his father with his comrades Lev, Touly, Georgiy and two more others while he left his sister behind with her new friends. However, a storm broke out and Maxime had nearly drowned from being washed by a bigger wave but when Alam's spirit aided him, he regained his courage to carry on swimming back to Russia. On arriving to the shore of Sakhalin Islands with Lev and Touly, he told his father that Hokkaido is a barren land and they must carry on living in their homeland for survival.
See more pictures in Maxime (Photo Gallery)