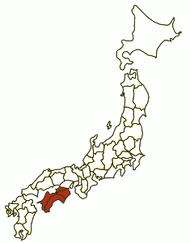 Shikoku(四国, "four provinces") is the smallest (225 km long and between 50 and 150 km wide) and least populous of the four main islands of Japan, located south of Honshū and east of Kyūshū island. The current name refers to the four former provinces which made up the island: Awa, Tosa, Sanuki, and Iyo.
In Ginga series Shikoku is the home of many fighting dogs, including Benizakura.
Dog fighting evolved in Kōchi to a form that is called Tōken (闘犬). Under modern rules, dogs fight in a fenced ring until one of the dogs barks, yelps, or loses the will to fight. Owners are allowed to throw in the towel, and matches are stopped if a doctor judges it is too dangerous. Draws usually occur when both dogs won't fight or both dogs fight until the time limit. Champion dogs are called yokozuna, as in sumo. With generic animal protection laws in place, dog fighting is not specifically banned in Japan, except in Tokyo, and can be seen in Kochi. Currently, most fighting dogs in Japan are Tosa, which is a breed that was developed in Kochi.
Ad blocker interference detected!
Wikia is a free-to-use site that makes money from advertising. We have a modified experience for viewers using ad blockers

Wikia is not accessible if you've made further modifications. Remove the custom ad blocker rule(s) and the page will load as expected.