Tetsukimen

Breed

Tosa

Affiliation

N/A

First Appearance

Shiroi Senshi Yamato vol 22

Last Appearance

Shiroi Senshi Yamato vol

Status

Unknown (possibly deceased)

Family or owners
Tetsukimen is a fighting dog and a brother of Blue Tiger and Kabuki.
Outside of the ring Tetsukimen always wears an iron mask. When the dog enters the ring the mask is always removed. Underneath the skin on his forehead is a diamond which is extremely dangerous when the dog pushes the opponent over himself on its Dynamite Crasher technique. Yamato manages to remove the stone in their match and beat the dog.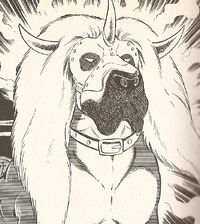 Ad blocker interference detected!
Wikia is a free-to-use site that makes money from advertising. We have a modified experience for viewers using ad blockers

Wikia is not accessible if you've made further modifications. Remove the custom ad blocker rule(s) and the page will load as expected.