Thunder
Talk

0
838pages on
this wiki
Thunder (サンダ)

Breed

Doberman Pinscher

Affiliation

First appearance

GDW Ep. 10, GDW manga vol 10 chpt 1 (shadowed) - chpt 6 (full appearance)

Last appearance

GDW ep. 16, GDW manga vol 11 chpt 6

Status

Unknown (Deceased in anime - killed by

Jerome

)

Family or owners

Voiced by

Susumu Akagi
Thunder in Ginga Densetsu Weed anime
Edit
Thunder is the brother of Lector and works under Hougen as an assassin. He used to be as the same military facilities as Jerome but he and his brother were transferred to get specialized in their fangs. They appeared in episode 10 where they make Teru's father help them at finding Weed and Kyoushiro. As the fight breaks lose, Thunder fights Weed, but as Weed's pack appears he and his brother try to flee, but gets spared by Weed in the end.Thunder and his brother returns again to try and finish the job on killing Weed and ends up in a fight with Weed and Tesshin which they lose.Yet again their lives is spared by Weed, but is told to not work for Hougen again.
As they flee they start planning on how to kill Weed which Jerome hears and then decides they're too dangerous to be kept alive and then kills them. Weed and the others came to where Jerome was about to kill Thunder after hearing Lector's dying scream, where after finding Lector's body did they heard Thunder shouting for help. Thunder who was pinned by Jerome, begs for his life and promised to not go after Weed anymore. Jerome just said: "There's no point in arguing". Thunder begs again only for Jerome to grab Thunder's neck with his jaws. Weed who had just arrive asked Jerome what's he's doing then order him to let Thunder go. However Jerome told Weed that Lector and Thunder were planning on going after him again, and that killing them is the only option. Weed replied that he didn't care, and orders Jerome to let Thunder go, for he won't forgive any self-fish actions.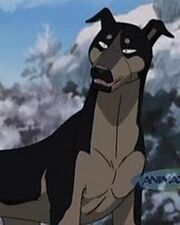 As Weed runs and tries to stop him, Jerome crushes Thunder's neck and died with one last scream right in front of everyone. Although Jerome was able to save Weed from a future attack from Thunder and Lector, his actions caused Weed to hate him and banished him from his pack for taking lives. Thunder was the second of the brothers to die.
Thunder in Ginga Densetsu Weed manga
Edit
Thunder is one of Hougen's minions and an assassin. Together with his brother Lector, he has been given the task to kill both Weed and Kyoushiro. Thunder takes the puppy Teru as a hostage but Kyoushiro makes a bargain to let the puppy go in order to fight them both. While Kyoushiro fights Lector, Weed fights Thunder in a duel. When Weed and Kyoushiro were about to lose the fight, Weed's pack turned up in time that he and his brother tried to flee but were quickly subdued. Unlike Lector, Thunder is a bit of a coward and gets emotional especially when he saw his brother hurt by Hiro. Thunder loses the fight and disappears together with his brother. He is not seen or mentioned again in the series.
Is on told in the manga and It was confirmed that Thunder with his brother Lector is the son of Sniper.
See more pictures in Thunder (Photo Gallery)