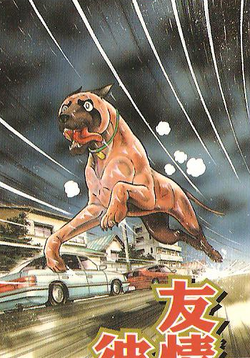 Ginga Densetsu WEED Gaiden is a manga collection of different short stories, all of them about the bonds of friendship, love and courage. Each chapter focuses on a different dog during the time period that Weed was journeying toward Ohu.
Mel's Trip: While hurrying to join Weed in Ohu, Mel is shown kindness by the house dog Jody. When Jody's masters are kidnapped, Mer decides to repay her kindness by helping them.
Lonely Ron: A Great Dane called Ron escapes from his home to run free, but is soon sent running for shelter by a thunderstorm. He meets Bull, a Kai-Ken, and through their friendship learns courage if not for himself then at least for others.
Winds of Zion: A little boy befriends a stray puppy and his mother, learning through them to be a stronger person.
HANAKO: Living with a wolfdog hybrid in Japan is not easy, but the love she gives in return makes it all worthwhile.
Ad blocker interference detected!
Wikia is a free-to-use site that makes money from advertising. We have a modified experience for viewers using ad blockers

Wikia is not accessible if you've made further modifications. Remove the custom ad blocker rule(s) and the page will load as expected.