Yukimura
Talk

0
839pages on
this wiki
Yukimura

Breed

Akita/Kishu Mix

Affiliation

First appearance

GDW Volume 30 - Ch. 3

Last appearance

GDW Volume 35 - Ch. 5

Status

Family or owners

Name Meaning

Fortune Village
Yukimura is the brother of Weed and Joe. When Sakura, his mother, became ill, she asked a dog named Saheiji to take Joe and Yukimura; as she was too sick to hunt for all three of her pups.
Yukimura, in his foster home, is then attacked along with his brother and his foster father by a clan of monkeys led by a gigantic gelada baboon called Shougun.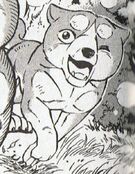 The monkeys that obey Shougun wounds Saheiji badly, disabling movement in his lower body. They also attack Yukimura, giving him 3 scars (similar to his father's) across his right eye. Shougun then steals Joe and 'eats' him, but it has been revealed that Joe is alive and has a son. Yukimura swears to kill any monkey he sees. At the time of his 1st year, Yukimura meets his long-lost brother, Weed. The two are stunned at how alike they look but when Weed suggests that they should team up with a group of monkeys to defeat Shougun, Yukimura refuses and fights Weed. However, the battle continues with Shougun and during the fight, it rains and Shougun stabs Yukimura in his stomach with a sharp branch. Though badly wounded, Yukimura uses the Zetsu Tenrou Battouga to injure Shougun, while the remaining monkeys kill him. Yukimura dies shortly from his wounds and Saheiji tells Weed that Yukimura was Weed's brother but Yukimura refrained from telling him that because he did not want Weed to do anything drastic to save him in the fight. Koyuki (Sister-in-law) Kotetsu (Brother-in-Law)
Yukimura and his brother Joe can use a Battouga-esque attack called Neck the Killing.
See more pictures in Yukimura (Photo Gallery).